42nd Annual J. Millard Tawes Crab & Clam Bake  
          Maryland's Largest All-You-Can-Eat Seafood Festival
   Crisfield, MD - "Gateway to the Chesapeake"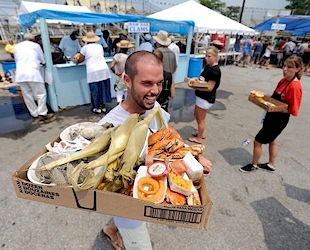 All-You-Can-Eat ..... STEAMED BLUE CRABS, Steamed Clams,  Raw Clam Bar, Fried Clam Strips, Fried Fish, Steamed Corn, Sweet Potato Fries, French Fries, Onion Rings & Watermelon
INCLUDES beverages with all-can-drink Iced Cold Pepsi & Bottled Water, Cold Draft Beer (with I.D.) Drink responsibly & bring a designated driver!
NO COOLERS ALLOWED IN THE GENERAL ADMISSION AREA.
NO FOOD CAN BE TAKEN FROM THE EVENT.  (ALL YOU CAN EAT - BUT EAT IT HERE PLEASE!)
NO POP-UP TENTS ALLOWED IN THE GENERAL ADMISSION AREA.
OPEN SEATING AVAILABLE UNDER AN OPEN PAVILLION AND ADJOINING TENT. 
                BACK BY POPULAR DEMAND!!    
"THE CRAB  TRAP"
A special Individual & Small Group hospitality area
Limited to the first 400 tickets sold.
Special tent-covered seating area with dedicated DJ entertainment, private restrooms & adult beverage (beer) availability in "The Crab Trap."
Patrons MUST obtain their own food at the appropriate food booths.  This IS NOT a catered area !!
Private Corporate Hospitality Spaces available with the advanced purchase of 30 or more tickets. 
For details call Pat:  (410) 968-2500 
Purchase Tickets HERE
 Have questions about J. Millard Tawes Crab & Clam Bake - 2018? Contact Crisfield Chamber of Commerce
WHEN
July 18, 2018 at 12:00pm - 4pm